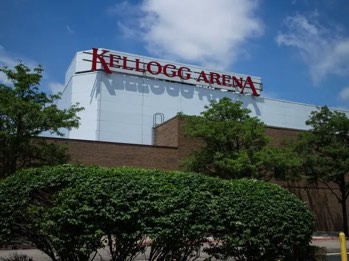 Kellogg Arena is located in the heart of downtown Battle Creek, 4.5 miles north of I-94, and is part of the McCamly Square complex which includes McCamly Plaza Hotel (242 Rooms, currently closed for renovations), McCamly Place (50,000 sqft retail area featuring Biggby Coffee), McCamly Square Parking Ramp, and the Festival Market Square outdoor gathering space.
Facility Guide
Find complete facility details, services offerings, contact information and other helpful Kellogg Arena information in our comprehensive guide.
Download
View Online
Photos
Look through our room tours and photo galleries to start thinking about how your event will take shape at the Kellogg Arena.
Directions & Parking
The Kellogg Arena is located downtown Battle Creek, close area hotels.
Attended an antique, vintage sale as a vendor. Lots of booths, put on by 9-lives vintage out of Battle Creek. Lots of great vendors and very good walk thru.Very happy about the turn out.
David R.