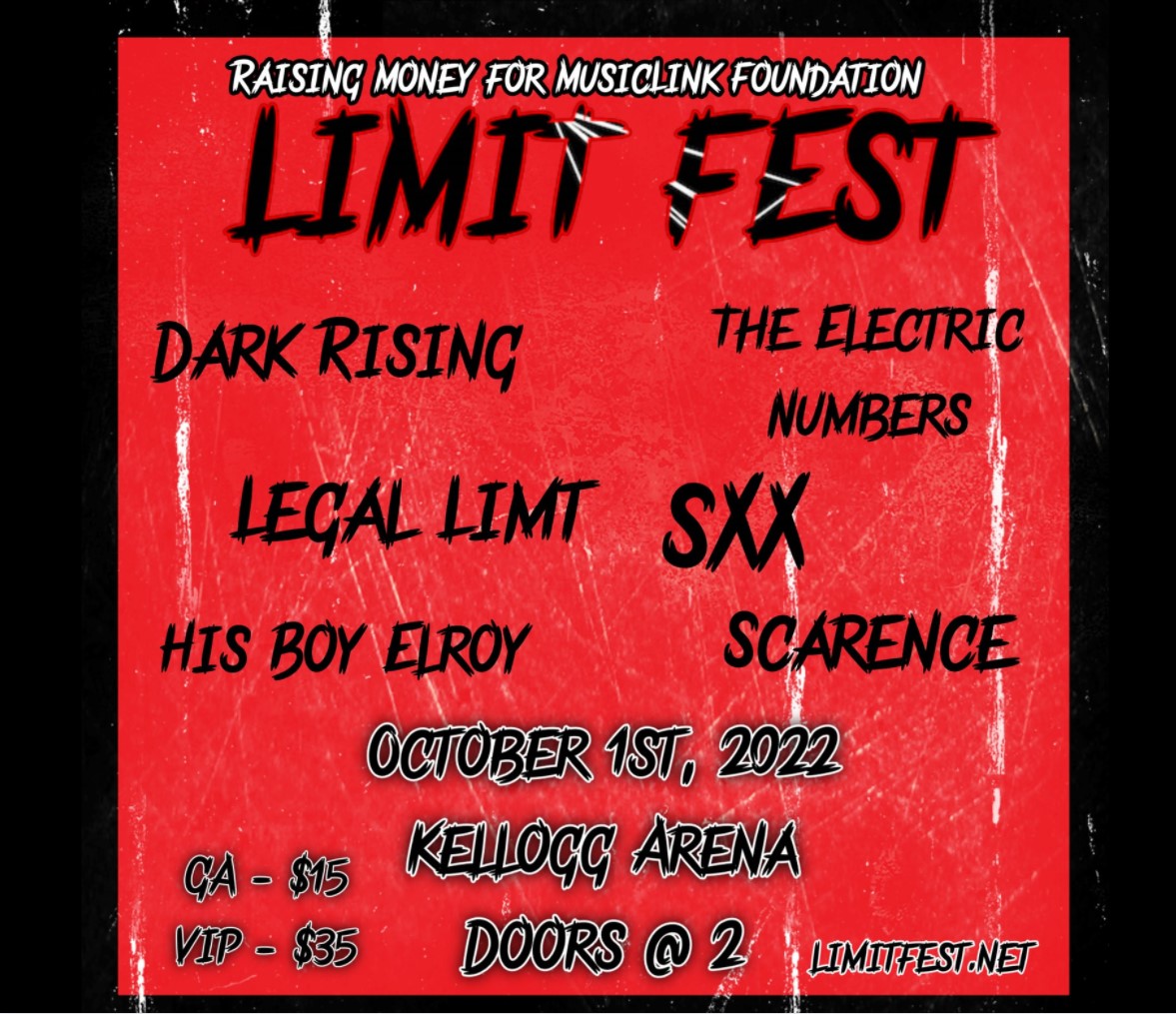 LIMIT FEST
LIMIT FEST is coming to Kellogg Arena October 1, 2022! This rock and roll festival is designed to raise money for the MusicLink Foundation. They help provide lessons and instruments to children as little to no cost. There will be a great band line up and raffles throughout the day.
LIVE BANDS! SXX, Dark Rising, Legal Limit, The Electric Numbers, His Boy Elroy and Scarence!
Tickets on sale July 1, 2022!
VIP $35 (includes premium seating, t-shirt, give-a-way entry and food voucher)
General Admission $15
Event 3pm-11:30pm, Doors open at 2pm
SXX is a premier Michigan rock group who has recorded and played live since the early 2000's.
Rock and Roll band out of Ypsilanti, MI
A J Ross – Vocals
Gary – Guitar
J D Nutt – Bass

A band from Battle Creek, MI formed in 2020. Lead by the vocals of Chelsea Austin, Scott Wagner on guitar, Doug Brown on bass, and Gabe Keese on drums. We stive to bring the spirit of classic rock and roll to our audience with our contributions to the world of Rock. Join us as we deliver a kickass rock and roll experience!
Solid Rock n Love. Electrically Charged. Sent on a mission of love to the outer reaches of space; these intrepid space explorers returned with heavy grooves and guitar-driven rock. These are… The Electric Numbers. 
A heavy harmony classic rock/alternative group out of the Marshall/Battle Creek area. Paul Rogers Sr and Jr on guitar/vocals/harmonica and bassist/vocalist Gerry Light come together to bring your favorite songs you forgot you were missing.
A new up and coming band from Battle Creek!
Limit Fest was an idea to give back to the music world. Music has been such as huge part of my life since the day I was born. I have played in multiple concert bands and seen so many different concerts that I've lost count. This festival is a way to help give back to the thing I love……music.
Through this event, if the money we raise for charity brings one kid a brand new instrument that keeps them playing, it will have been worth it to me. -Brian Weers, Manager, Legal Limit